News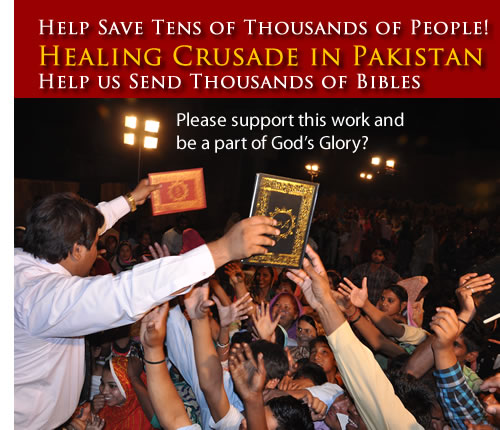 DREAM...
This is a vision that Pastor Shadzad had after fasting and praying in his pray room for many days.
I saw Leo and Mother Donna Standing with Jesus Christ. and there book of life really full with names. and Some body give the book to Donna and ask her please open the Seals of the book. then at first page the name of Leo and Donna. that name written by gold.

We need your help! We are preparing for a VERY large healing Crusade in Pakistan. We have held many Crusades there with much success, on the last trip there were about 250,000 salvations with many,many miracles taking place. In the last week two pastors from Pakistan have had visions of our next Crusade. One used to work with Reinhard Bonnke and has see very large crowds. The Holy Spirit showed him in a vision, Donna and I and Pastor Shahzad stand in front of the same crowds as Reinhard Bonnke. He saw more then 90,000 people in one night saved through my preaching. He said I saw you win millions of souls for the kingdom of God. Another Pastor had a vision Donna and I on a large stage in front of the very biggest crowd. There were lots of sick people and thousands of spiritually sick people. He saw Jesus standing behind of me and light came from Jesus and touched peoples. Then he saw fire come out of my mouth, and the Holy Spirit speaking through the fire. He saw thousands, thousands of people saved through my preaching and with prayers.
We are also sending Thousands of Bibles to Muslim countries and they cost $3.50 each. We have sent over 8 million flyers that God has anointed into 3 Muslim countries and hundreds of thousands are getting saved and are begging us for Bibles. We have received over 1000 emails in the last 8 months, all because of the flyers. We have our pictures and pictures of people who received a miracle in our Crusades in Pakistan. also I wrote a little about Hell and about Heaven and how to escape hell, with a sinners prayer to accept Jesus as Savior and Lord. The Holy Spirit has so anointed these flyers that it is piercing their hearts, even preachers are coming to Jesus. They are having dream, vision and Jesus is appearing to many. We have four committed people with projectors showing videos, one Heaven or Hell its your Choice and the other, part of the Passion of Christ and I tell them how to get Saved and escape Hell. They are leading whole towns to Jesus Christ, one of over 4,000 people. They tell us; don't send money, send us Bibles.
CONTACT US TODAY! You can reach us at email us or call 785-336-1137. Will you please help support this work and be a part of Gods Glory?
---